Materials on the business processes related to recruiting and candidate management. 
Key:  WIG - Workday Instructional Guide    WPO - Workday Process Overview
Related Instructor-Led Training (ILT)
Workday Recruiting ILT – This course teaches Workday's recruiting processes related to job requisitions and candidate management.
Related askUS Answers! Video
What do the parentheses after a candidate's name tell me?
Troubleshooting tip: If you're a recruiter, what does (Prior Worker), (Internal), (Contingent Worker), or nothing next to a candidate's name mean? You may be able to determine if a person has an EID or if the duplicate records were properly handled. Watch Now! (1:44)
How can I create an Offer Letter in Workday?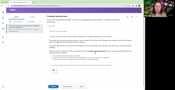 Offer Letters can be generated for candidates in job requisitions within Workday, including signature management through a built-in connection to DocuSign. This video provides an overview of how to generate and update an offer letter within Workday. Watch Now! (2:34)
---
Overview
Recruiting - WPO
Key concepts, process definitions, recruiting role descriptions, and business processes involved within Recruiting and Candidate Management.
Evergreen Requisition Overview - WPO
Key concepts, definitions, tricks, and summary of actions required.
Job Requisition
Create Job Requisition and Post Job - WIG
Steps for creating a competitive search job requisition plus the process to post ("advertise") a job.
Edit Job Requisition - WIG
Steps to correct or update the details of the original job requisition.
Unpost Jobs -WIG
Steps to unpost (take down the "advertisement") a job.
Recruiting Questionnaire - WIG
Steps to create and manage secondary (optional) questionnaires to attach to a job requisition.
Candidate Management
Candidate Management - WIG
Comprehensive instructions to move a candidate through the recruiting stages with appendices on declining candidates, uploading application materials, reinitiate a business process after canceling/rescinding, and a Troubleshooting guide.
Candidate Communication - WIG
Steps to sending various messages to candidates.
Apply for Job
Find and Apply for a Job (for Current UT Employees) - WIG
Instructions for all UT workers applying for jobs.
Evergreen Job Requisition
Recruiting from Evergreen Requisition - WIG
Steps for completing evergreen requisition process from beginning to end.
Edit Evergreen Requisition - WIG
Steps to correct or update the details of the original evergreen requisition.
Information Session Training Slide Decks